Kothari National School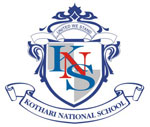 Kothari National School  is run under the aegis of  Sharda Mansukhlal Kothari Charitable Trust. It is a day school situated in Pune India, catering to students from Kindergarten to Grade 12. It follows the curriculum of Central Board of Secondary Education (CBSE).
The school provides large play areas, spacious classrooms and a variety of premium amenities. This, combined with a rich programme of co-curricular activities, allows for a completely holistic schooling experience.
Visit us @ www.kotharischoolpune.com
About Sharda Mansukhlal Kothari Charitable Trust
To facilitate implementing philanthropic interests, Kothari group had founded Sharda Mansukhlal Kothari Charitable Trust in the year 1980 which commenced serving human community and various social programmes.
The trust started the premier school S.M. Kothari International School in the year 2004 at Noida, to impart world class education to the Indian society.
Visit us @ www.kotharischool.edu.in
Synergy School Systems
The Synergy School Systems is a group which is in building global schools locally through research, effective management, systems & services set to international standards. The group comprises of educationalist, planners, care takers, teachers & professionals with international experience and passion in what they do.
Visit us @ www.synergyschools.org